Kultur:Wandel – Impulse für eine zukunftsweisende Kulturpraxis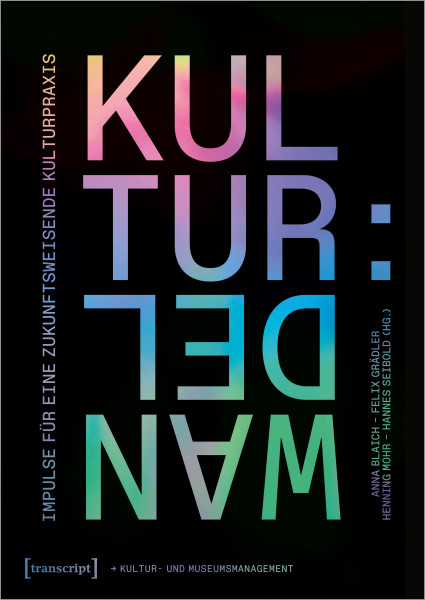 Wie sieht eine gerechte Kulturpolitik im 21. Jahrhundert aus? Wie kann die kulturelle Infrastruktur zukunftsfähig gehalten und generationen- und gendergerecht erweitert werden? Oder anders: Wie können staatliche und nicht-staatliche Akteur*innen eine Cultural Governance entlang sich verändernder Bedürfnisse entwickeln? Diese Fragen diskutieren die Beiträger*innen des Bandes und entwerfen Handlungsweisen und Transformationsmöglichkeiten für ein neues Kulturverständnis. Mit konkreten Ansätzen und Praxisbeispielen zeigen sie neue Leitbilder der Kulturpraxis bzw. Kulturpolitik auf, laden zum Nachahmen ein und machen Mut, eigene Konzepte zu entwickeln. E-Book via Open Access hier erhätlich.
Herausgeber: Anna Blaich / Felix Grädler / Henning Mohr / Hannes Seibold
Culture:Change – Impulses for a Future-Oriented Cultural Practice
What does a just cultural policy look like in the 21st century? How can the cultural infrastructure be kept sustainable and expanded in a generationally and gender-appropriate way? Or, in other words: How can state and non-state actors develop cultural governance in line with changing needs? These questions are discussed by the contributors to this volume and they outline courses of action and transformation possibilities for a new understanding of culture. With concrete approaches and practical examples, they show new guiding principles for cultural practice and cultural policy, invite readers to emulate them and encourage them to develop their own concepts. E-Book availabe via open access here.
Editors: Anna Blaich / Felix Grädler / Henning Mohr / Hannes Seibold