As the title suggests, David Buck's recent publication concentrates on weaving sound into the sensory appreciation of landscape. Through conceptual and direct reference on musical notation, his work investigates landscape architecture's inherent temporality and calls for refocusing  this under-researched aspect provided by the model of notating time.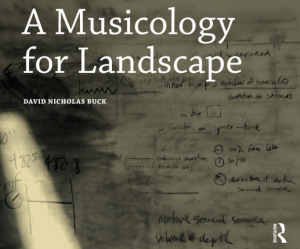 Being a landscape architect and educator, Buck's work offers an innovative and contemporary approach to a wide range of landscape projects and as the founder of the "landscape architecture programme" at the University of East London, his design work in the UK and Japan has been widely published. During his PhD he focused on the investigation of alternatives for perspectival representations of space in landscape architecture through developing new notations from a synthesis with music, thus "A Musicology for Landscape" is evidently the latest in a succession of thriving works.
The book hereby addresses a difficulty within the architectural discourse, which is concerned with a lack of adequacy of the existing design tools to correctly explore the landscape's inherited temporality. By seeking new forms of notation through the inclusion of musical notation, the book introduces three influential composers – Morton Feldman, György Ligeti and Michael Finnissy – presenting a critical evaluation of their work within music, as well as a means in which it might be used in design research. David Buck then juxtaposes musical scores with design representations by Kevin Appleyard, Bernard Tschumi and William Kent, until final examination through newly developed landscape architectural notations. Ultimately, bringing together musical composition and landscape architecture through notation, evokes a focused and sensitive exploration of temporality and sound in both fields.
David Buck – between landscape architecture and land art 
A Musicology for Landscape – 2017 – Routledge