We are pleased to announce the fourth KISMIF International Conference 'Keep It Simple, Make It Fast! Gender, differe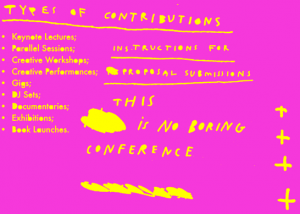 nces, identities and DIY cultures' (KISMIF Conference 2018) which will take place in Porto, Portugal, between 3 July and 7 July 2018. This initiative follows the great success of the three past editions of the KISMIF Conference and brings together an international community of researchers focusing on underground music scenes and do-it-yourself culture. The 4th edition of KISMIF will focus on 'Gender, differences, identities and DIY cultures', directing its attention on gender issues relating to underground scenes and DIY cultures, and their manifestation at local, translocal and virtual levels. In 2018, the scientific programme of KISMIF will once again be accompanied by a diverse social and cultural programme, characterised by a series of artistic events, with special focus on underground music and other artistic expressions. The aim is to provide a unique experience in terms of the transglobal DIY cultures. KISMIF Convenors Andy Bennett & Paula Guerra.
CONFIRMED KEYNOTE SPEAKERS:
Adriana Amaral, Ana da Silva, Anthony Fung, Gina Birch, Helen Reddington, Jodie Taylor, John Robb, Jordan Mooney, Lucy O'Brien,
Michael MacDonald, Motti Regev, Rosa Reitsamer, Sara Cohen, The Raincoats.
More: KISMIF Website